Back to Silver Arrow main page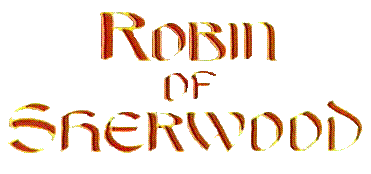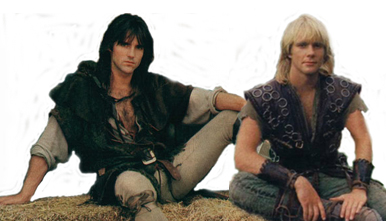 Episode Guide

Main cast

Robin Hood Michael Praed
Robert of Huntingdon Jason Connery
Marion Judi Trott
Little John Clive Mantle
Will Scarlet Ray Winstone
Brother Tuck Phil Rose
Nasir Mark Ryan
Much Peter Llewellyn Williams
Sheriff of Nottingham Nickolas Grace
Guy of Gisburne Robert Addie
Abbot Hugo Philip Jackson
Herne the Hunter John Abineri
Edward of Wickham Jeremy Bulloch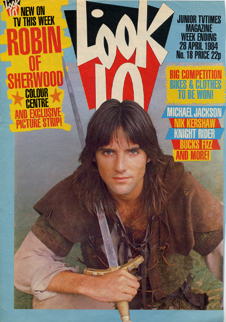 Series One

Robin Hood and the Sorcerer

Written by Richard Carpenter
Directed by Ian Sharp



Robin, captured by Guy of Gisburne and imprisoned in Nottingham Castle, meets the men who are to follow him into Sherwood Forest. After his escape, he sets out to rescue the Lady Marion from the clutches of the evil Baron de Belleme.

Guest cast

Young Robin Toby Lee
Ailric Wayne Michaels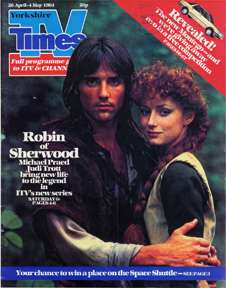 Miller's Wife Betty Francis
Miller Geoffrey Greenhill
Simon de Belleme Anthony Valentine
Tom Fletcher Paul Duggan
Dickon Mark Audley
Old Prisoner Stuart Linden
Clerk Harry Herring
Flambert Thomas Henty
Simon's women Kim Hicks and Gillie Roper


**Watch carefully at the end of the episode as Robin releases Marion from the pentagram. He hacks the chains with Albion, and a link flies off and hits Judi Trott in the face.

**As Robin pulls the arrow from Belleme's body there is a loud popping sound.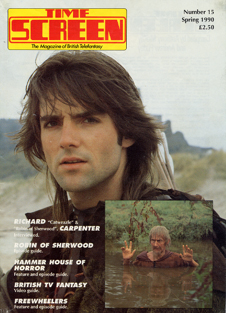 **At the point when Belleme sets Robin's bow alight, Praed mouths a very rude word.
**Someone called Robert de Belleme existed and was thrown out of England for sorcery and devil worship around 1300.
---



The Witch of Elsdon

Written by Richard Carpenter
Directed by Ian Sharp


Jennet of Elsdon and her husband Thomas are accused of witchcraft and sentenced to death by Abbot Hugo. The Sheriff of Nottingham offers to spare their lives if Jennet will use her powers to render Robin helpless and put him at the mercy of Gisburne and his men.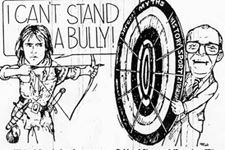 Guest cast

Gregory David Goodland
Jennet Angharad Rees
Thomas Cornelius Garrett
Martin Martin West
James Steven Osborne



---
Seven Poor Knights From Acre

Written by Richard Carpenter
Directed by Ian Sharp




Robin faces the wrath of the Knights Templars, seven fighting monks who are among the most feared warriors in Europe. Led by the fanatical Renald de Villaret, they believe Robin has stolen their sacred emblem.

Guest cast


Siward Simon Rouse
Reynard de Villaret Yves Beneyton
Heinrich von Erlichhausen Duncan Preston
Potter Colin Rix
Fat Merchant Peewee Hunt

---
Alan a Dale

Written by Richard Carpenter
Directed by Ian Sharp


Alan a Dale arrives in Sherwood threatening to kill the Sheriff. The object of his affections, Mildred, daughter of the Baron de Bracy, is being forced against her will to marry the Sheriff of Nottingham. Robin decides to help the young lovers.

Guest cast


Meg of Wickham Claire Toeman
Alan a Dale Peter Hutchinson
Mildred Stephanie Tague

**In one of the scenes, buzzing bees from a smashed beehive were supposed to thwart the Sheriff of Nottingham. Horseflies were said to produce a realistic swarm, so a suitable number were put in a box with a piece of meat to keep them quiet until their release. When the cameras rolled, only two flies shot out to swarm around the Sheriff; the rest were enjoying the meat. The scene was eventually completed - without the flies.

**The voice of Alan a Dale was dubbed. Apparently the voice artist used was Simon Shepherd.

**After spending a full day filming the mudfight scence, Michael Praed and Robert Addie were less than thrilled to be told that the footage had been destroyed and would have to be reshot.

**It is said that after filming the mud scenes, Praed and Addie would race back to the shower, there being only one available. It is said that Robert Addie always got there first.
---
The King's Fool

Written by Richard Carpenter
Directed by Ian Sharp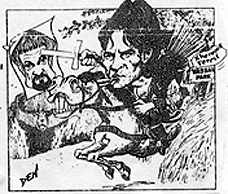 Robin rescues a strange knight from an ambush and earns the gratitude of the most powerful man in England, King Richard, recently returned imprisonment in Europe. Robin readily accepts an invitation to fight at the King's side in Normandy, but the relationship soon sours.

Guest cast

King Richard John Rhys Davies
Mercadier Doc O'Brien
Hubert Walter Gary Waldham


---
What they said about the first series...
ITV triumph with Robin Hood
The extent to which ITV has taken over from the BBC as the producers of high quality television is nowhere better illustrated than in it's output of programmes for childen writes Robert Bennett.

It began with Wurzel Gummage then the triumph of Metal Mickey and now it looks set for another triumph with Robin of Sherwood. It must have taken a great deal of self confidence to launch the new series with a two hour slot, but that confidence was amply justified. This is a brand new approach to what had become a very tired tale.

Richard Carpenter, the script writer, has turned his back on the image of Robin Hood and his Merry Men. Indeed so far most of Robin Hood's men are positively morose and with very good reason. The England they live in is a country under occupation. The Normans are the Mediaeval equivalent of the Nazi SS and the AngloSaxon people are torn between keeping their heads down or standing up to them and facing almost certain death.

It is no fun being an outlaw in such a situation and it is not much fun hiding in Sherwood Forest which really is a forest. In this version the outlaws lounge around on awkward hillsides among dense and uncomfortable greenery. Such realism is vital - for Richard Carpenter has also introduced myth and magic to the story. Robin, played by Michael Praed, is a man whose destiny is controlled by the forces of light and darkness, and in particular by Herne the Hunter, half man, half beast, who haunts the forest and turns a Robin who is essentially a young man forced by accident to rebel into a resistance fighter with a prophecy to fulfil.

It may owe a great deal to the current fashion for fantasy in children's literature and to something like Star Wars, but it is no less effective for that. Sadly, the least successful scenes were those in which young Robin rowed across a steaming pond to meet Herne the Hunter - a poor replica of Arthurian legends - but that was more than offset by the confrontation with the Baron de Belleme, superbly threatening and superbly played by Anthony Valentine, as the personal representative of the powers of darkness. With Judi Trott as a stunning pre-raphaellite Lady Marion, and I am pleased to say a lot of Yorkshire accents around, it is difficult to see how Robin of Sherwood can avoid becoming a classic of childrens television. Certainly if the remaining four episodes live up to this standard, and if Richard Carpenter continues to ignore the traditional version of what is a myth anyway, we are in for a treat, not to mention the children.

Why on earth British television should spent money buying badly made, unimaginative, poorly scripted American junk when homegrown talent can produce something like this is beyond me.
---
Having been a keen follower of Richard Greene's Robin Hood I can't help thinking that this new chap 'Robin of Sherwood' went to the wrong school. In days of yore, greenwood outlaws had a good tailor of quiet but obvious quality and a barber one could trust. Michael Praed, as the latest incumbant of Sherwood Forest, has chosen to forego the niceties one has come to expect of England's premiere legend and associate with a bunch of yahoos and ne'er-do-wells. Not that I am complaining. Two hours of Richard Greene would have been enough to plunge even the hardiest viewer into a deep and dreamless sleep, as much as I hate to say it. HTV's latest coproduction with Goldcrest (around the £2 mark) gets closer to the period feel. In those days and in those conditions, Robin and his men would have had little time or inclination to stop for a wash and brush up. Writer Richard Carpenter has woven an interesting tale and much of the length of Saturday's film was needed to set the scene for the rest of the series. Coming as it does from the producer who made The Professionals, the belief was obvious that actions speak louder than words. Robin did have his moment when rallying his men with a stirring speech about feudal oppression - "No voice, no justice, no England," but generally the dialogue was on the Bodie and Doyle level. The theme music from the Irish band Clannad who did so well for Harry's Game went for atmosphere and missed. When Robin faced his sworn enemy, Guy of Gisburne, the music suggested that they were going to kiss. But, not wishing to have an arrow (wrapped with a cloth bearing a threat scrawled in blood) thud into my desk I should add that I will be off to the woods next Saturday to catch Robin and the lads in pursuit of the Sheriff. It's a great story. HTV have got it 80% right and there's a long way to go. Neil Clements
---
Robin Hood and his team of wets

Robin of Sherwood had to be one of the wettest dramas ever, and not just because of the endless display of damp breeches from all the sitting around on rain soaked location grass. I missed the first no doubt vital episode because my dear old mum dusted the preprogrammed video and wiped it off while I was away. But the rest of the series was so dismally slow and whimsical that it seemed to have been put together by an ex hippy driven slightly dippy by the mystical cow bells ringing in his ears. Nickolas Grace, stamping his tiny hoof in a constant state of vexation as the Sheriff of Nottingham, was good value for money, and I quite took to Herne the Hunter, heavily disguised as a coat hanger, waving his magic antlers. And I did feel a certain pang when stupid Guy of Gisburne crashed to the ground with his coat alight. Anyone that monumentally dopey deserves all the human sympathy he can get.
---
Robin Hood and his mystical men by Gerard Dempsey
They ushered him in with close-harmony chords and the low croon of the synthesiser... A Robin Hood for the eighties. Michael Praed is a beardless freedom fighter with the face and form of a pop star, a fustian figure in drap olive rather than natty Lincoln green. But he brings a marvellous authenticity to the title role in Robin of Sherwood, a raw and riveting new look at the old greenwood tale. This Robin is a spooky specimen, disciple and agent of the Lord of the Trees, who sounds like Tarzan but is in fact Herne the Hunter, the forest dwelling horned man of ancient legend. Avenging So the new Robin is not your regular Sherwood tearaway. He is the avenging spirit of Herne's prophecy : 'Beware the hooded one.' Hence Robin i the Hood - Robin Hood. Get it? Well, it was new to me. So, too, was the concept of the Merry Men as manifestations of something elemental and mystical like characters in a German opera. It was this excursion into the supernatural which added a thrilling new dimension to Richard Carpenter's free-ranging new series. In this fearless new version, King Richard is an out and out villain, Little John a bewitched bother boy, Maid Marion the kind of girl who invites a ruffianly stranger into her bedchamber, and the outlaws a rabble of dissident ragamuffins. Is this the old greenwood? Errol Flynn and Richard Greene wouldn't know the place.
---
Look In letters
....I liked the series Robin of Sherwood because it was full of sorcery and there was a lot of action. I think that Michael Praed, Judi Trott and the rest of the gang played their parts very well. I was glad to hear that they are making another series....
....My family and I all think that Robin of Sherwood is the best series on TV. All the characters are brilliant and they could not have chosen a better Robin. It's a shame the series wasn't on longer, but I hope there will be a lot more to come.....
....I am writing to congratulate ITV on their series Robin of Sherwood. I think that it's the best ITV programme ever. I like the idea of Gisburne being a stupid twit because it adds a funny touch to the programme. My favorite outlaw is Robin Hood and my second is Friar Tuck because he's very funny. I bet it was great fun making the series and I wish I could have been there....
....I thought Robin of Sherwood was great. I like Friar Tuck when he hits the Sheriff's men on the head with a big thick stick!....
....I agree that Robin of Sherwood is a brilliant series and was glad to hear there is soon to be another series screened. They couldn't have chosen a better Robin than Michael Praed.....
....I really enjoyed Robin of Sherwood and a prime example of terriffic actic was how anyone as nice as Robert Addie could play anyone as evil as Guy of Gisburne. I can't wait for the next series.....
---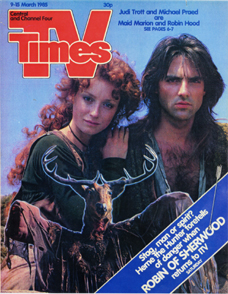 Series Two
The Prophecy
Written by Richard Carpenter
Directed by Robert Young

Prince John descends on Nottingham with a mysterious prisoner whose identity is closely guarded. Herne prophesises the death of King Richard and the existence of the strange prisoner. 'One close to you' he tells Robin. The outlaws devise a plot to free the captive not realising why or what impact his name will have on them all, especially Marion.
Guest cast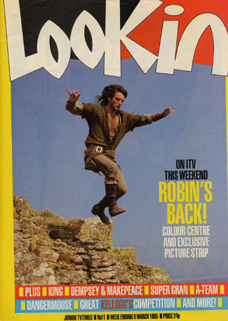 Old Prisoner Stuart Linden
Mark Simon Dutton
De Leon John Nettles
Captain Philip York
Guard Michael Loney
Little Boy David Bartlett
Abbot Hugo Philip Jackson
Sir Richard George Baker
Brother Cedric David Sivier
Messenger Jamie Ripman

---
The Children of Israel
Written by Richard Carpenter
Directed by Alex Kirby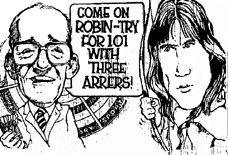 Joshua de Talmont is owed a great deal of money by the Sheriff, who uses the precedent of the Jewish massacre in York to stir up a riot under cover of which he intends to murder the Jewish merchant. The Sheriff and Gisburne pursue de Talmont deep into Sherwood, to be confronted not only by Robin Hood but the powers of a sacred book.

Guest cast

Joshua De Talmont David de Keyser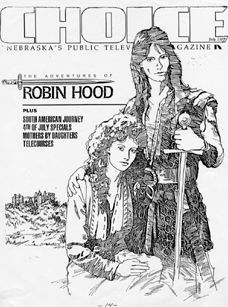 Esther De Talmont Amy Rosenthal
Samuel De Talmont Adam Rosenthal
Sarah De Talmont Katherine Levy
Captain Pavel Douglas
Poacher Paul Wilce
Head Man Daniel Gregory
Servant Odette Bennett

** Esther and Samuel are played by the children of comedienne Maureen Lipman
---
The Enchantment

Written by Richard Carpenter
Directed by James Allen

When Baron Simon de Belleme died, his treasure was never found. The Sheriff, spurred on by greed, has never given up hope of discovering this fortune. There are only two people who can lead him to it - the strange women who attended the Baron. The sheriff has one these women in his custody.

Guest cast

Lillith Gemma Craven
Ralph of Huntingdon Trevor Clarke
Young Witch Maria MacDonell
Simon de Belleme Anthony Valentine

---
Lord of the Trees

Written by Richard Carpenter
Directed by James Allen


In the Sheriff's absence Gisburne hires a gang of ruthless Flemish mercenaries to help him destroy Robin and the outlaws. It is the time of the blessing and no blood must be shed in Sherwood.

Guest cast

Bertrand de Neville Oliver Tobias

---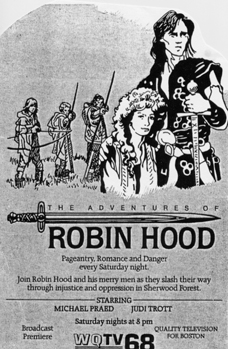 The Swords of Wayland (Parts 1 and 2)

Written by Richard Carpenter
Directed by Robert Young


Robin and the outlaws leave Sherwood to defend a distant village from the Hounds of Lucifer, eerily clad horsemen who terrorise the neighbourhood. They are the servants of a powerful coven ruled by Morgwyn of Ravenscar. Morgwyn bewitches the outlaws to turn against their leader and Robin is alone locked in combat with the most powerful forces of darkness.

Guest cast

Morgwyn Rula Lenska
AdamNorman Bowler
Earl Godwyn Anthony Steel
Verdelet Dallas Adams

---
The Greatest Enemy

Written by Richard Carpenter
Directed by Robert Young

At Nottingham Castle, the Sheriff receives a suprise visit from Hubert de Giscard, herald to King John. De Giscard makes it clear that the King is losing patience with the Sheriff's inability to rid Sherwood of Robin Hood and his band. Lured into a fatal trap, the outlaws are seperated and Robin finds himself isolated and alone facing an army of soldiers. Nottingham's triumph spells tragedy for the outlaws, but can the son of Herne the Hunter be destroyed that easily?

Guest cast

Arabs Mark Lewis and Stephen Dent
Giscard Robert Daws
Matthew Robbie Bulloch

---







What they said about the second series...

Exit Robin Hood with death blow from Sheriff

Actor Nickolas Grace is to become the first Sheriff of Nottingham to 'kill off' legendary hero Robin Hood. In the last episode of the current series, 10 million viewers will be reaching for their hankies when the Sheriff chortles with joy as he finally gives the order of death.
However, there will be a nail-biting cliff hanger as Marion and the others perform a ritual shooting of arrows into a Sherwood lake through their own tears.
Tonight sees the end of actor Michael Praed's run as Robin of Loxley. But, as if by magic, there will be another series of Robin of Sherwood in the autumn. Sean Connery's blond son Jason, 22, is to become the new hero.
Nickolas Grace, who is fast becoming the most 'hated' man in Britain as the evil Sheriff, now gets around 20 letters a week in his 'hate mail.'


Robin and the Naughty Nuns

There's nothing like a good, wholesome adventure story for a holy holiday weekend. And Robin of Sherwood, featuring a coven of naughty nuns, mass slaughter by the Hounds of Lucifer and other charming occult customs - blindness, madness, sexy satanic worship - was nothing like a good, wholesome adventure. But ITV's extra long Saturday trip down to the woods turned out to be the most exciting drama this Easter, with red cloaked, horned demons, avening outlaws in their designer greens and even a blue wax Satan. Rula Lenska as the awful abbess was something else. As the sword stroking lady of the cauldron, into which a cage load of Robin's not so merry men were due to be dropped, she was ace. I've never seen her act better. But then I've never seen her act. Michael Praed, the small, but beautifully marked Robin, had sharp blades waggled under his nose at every moment, then he had to jump from the cliffs miles down into the drink. Still, only a few more episodes and the poor lad is doomed to change faces. He drops out to be replaced by another actor. Will ITV do a Dynasty - invent an accident and bring in a medieval plastic surgeon? Watch this glen.
---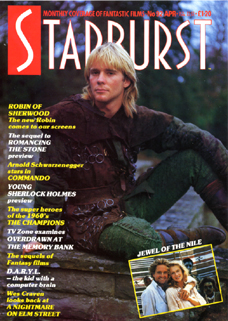 Series Three
Herne's Son
Written by Richard Carpenter
Directed by Robert Young

Robin of Loxley is dead. The Merry Men have scattered - Marion having been pardoned by the King, has returned to Leaford. At Huntingdon castle, the Earl and his son Robert prepare to entertain in order to arrange a political alliance for the King. Among their guests are the Sheriff of Nottingham, his brother Hugo, Guy of Gisburne, the Welsh Marcher Lord - Owen of Clun, his followers, Sir Richard of Leaford and his daughter Marion. Young Robert is captivated by the sadness and serenity of Marion. Lord Owen becomes infatuated with her - he insults and then abducts her. Robert realises that the must gather his resources to deliver her from this fate - but he needs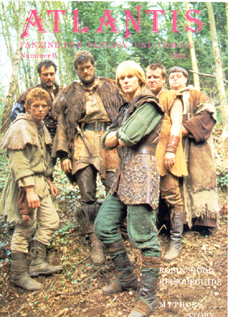 help from those who love her. With only Tuck remaining in Sherwood the task is destined to be long and arduous - but with Herne's help Robert is determined.

Guest cast

Owen of Clun Oliver Cotton
Gulnar Richard O'Brien
Richard of Leaford George Baker
Earl of Huntingdon Michael Craig

---
The Power of Albion
Written by Richard Carpenter
Directed by Gerry Mill

Robert of Huntingdon has been living in the forest with the Outlaws, leading them as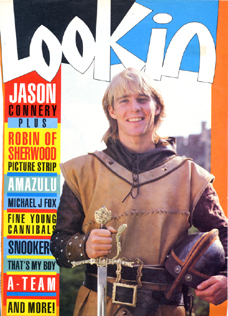 they return to their old ways. When Robert is badly wounded in a raid Marion is sent for in order to offer her medical expertise. On her return to Leaford she is arrested by the Sheriff of Nottingham. He is anxious to prove the identity of the band's new leader - being referred to as Robin Hood. The Sheriff also confiscates Albion from Marion. Robert of Huntingdon enters Nottingham in an attempt to dupe the Sheriff, save Marion and retrieve Albion.

Guest cast

Sir Richard of Leaford George Baker

---
The Inheritance

Written by Anthony Horowitz
Directed by Ben Bolt


In an old castle live a young girl Isadora and her father Agrivaine, who is the guardian of a priceless treasure. Agrivaine forsees his own death in the Tarot cards, but it is a more immediate danger that troubles him. Raven, a one-eyed ruffian, together with Mortimer, Agrivaineís ex-steward, specialise in pillaging anything of value. Isadora seeks the help of Robin Hood.

Guest cast

Agrivaine Cyril Cusack
Raven Derrick O'Connor
Scully David Rappaport
Isadora Cathryn Harrison

---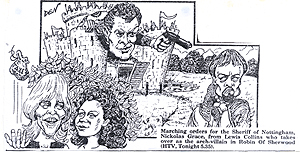 The Sheriff of Nottingham

Written by Anthony Horowitz
Directed by Christopher King


King John is tired of having his taxes stolen so he decides at last to replace the Sheriff. The new Sheriff, Philip Mark, is known as 'The Butcher of Lincoln' and his Saracen sidekick Sarak is not much better. Determined to catch the Outlaws, Philip Mark formulates a ruthless plan. He banishes his predecessor from Nottingham and the castle and leaves him deep in Sherwood Forest...

Guest cast

Philip Mark Lewis Collins
Sarak Valentine Pelka

---
The Cross of Saint Ciricus

Written by Richard Carpenter
Directed by Dennis Abey


Robin and the Outlaws make their way to Croxden Abbey to give away their loot to Abbot Martin - a fanatical monk and custodian of the Cross of Saint Ciricus, which is said to have healing powers. En route they come across a Lady, a victim of a robbery on her way to Croxden. Thinking she is about to die, the Lady makes a confession to Friar Tuck and reveals a strange connection between herself and Robin.

Guest cast

Lady Margaret Dorothy Tutin
Abbot MartinBrendan Price

---
Cromm Cruac
Written by Anthony Horowitz
Directed by Gerry Mill
Much has been wounded in a forester's trap. His wound becomes infected and he is very ill. The Outlaws are miles away from any of their known safe villages, but happen across a kindly carter who offers to take them to his village Cromm Cruac. However, Gulnar - formerly the sooth-sayer to Owen of Clun, is not far away and has an old score to settle...
Guest cast Gulnar Richard O'Brien
John Horsley
Elanor Claire Parker

---
The Betrayal
Written by John Flanagan and Andrew McCulloch
Directed by James Allen
The Sheriff's incompetence has brought the King himself to Nottingham to collect his taxes. With him he brings Roger de Carnac, a ruthless man who devises a clever plan to destroy Robin's reputation and deal with the Outlaws once and for all. Coinciding with the King's visit, there seems to be a spate of attacks and pillaging in the villages surrounding Nottingham. Could they be connected?
Guest cast
King John Philip Davis
Roger de Carnac Matt Frewer

---
Adam Bell

Written by Anthony Horowitz
Directed by Gerry Mill


Much is captured by the Sheriff who threatens to hang him. Then Adam Bell, an ageing outlaw, kidnaps Martin, the Sheriff's nephew. The Sheriff seems desperate to get his nephew back and with Much in prison he has something to bargain with.

Guest cast

Adam Bell Bryan Marshall

---
The Pretender

Written by Anthony Horowitz
Directed by Robert Young


A noble young man, rescued by Robin from the Duke of Gloucester's soldiers, wants to join his band. The powerful Duke and his daughter, ex-Queen Hadwisa, are plotting against the King. There is no natural heir to the throne, only a Pretender, Prince Arthur of Brittany - son of the Kingís brother. Is this the man Robin has just saved?

Guest cast

Hadwisa Patricia Hodge
Arthur Reece Dinsdale

---
Rutterkin

Written by Richard Carpenter
Directed by Gerry Mill


Little John intends to elope with Meg of Wickham, but their flight is halted by a mysterious mad pig lady who seems to have lost her charges. Lord Edgar, uncle to Robin Hood, comes to Nottingham to visit the King who is ill. While wandering through Sherwood rounding up pigs, Robin encounters his uncle who claims to have been looking for him. It appears that the Earl of Huntingdon - Robinís father - is in great danger...

Guest cast

Lord Edgar Ian Ogilvy
King John Philip Davis
Earl of Huntingdon Michael Craig

---
The Time of the Wolf

Written by Richard Carpenter
Directed by Sid Roberson


King John is raising an army against the Welsh. He orders all the food from the villages to be collected to feed his army. Robin and his band are unwilling to stand by and see their friends starve, so they prepare the Wickham villagers for action. Meanwhile at Grimston Abbey an old adversary of Robin's is practising his sorcery in most unusual ways.

Guest cast

Gulnar Richard O'Brien
---