PART ONE
I suppose there is a little of the detective in everyone if they are determined enough to pursue a project. I was approached in the early 1980's by my son Stuart, who was in his late teens at the time, to help him and his current girlfriend, Lea, to find the filming set of the BBC series Robin of Sherwood. The series was into it's third season of the making of weekly episodes. Young Lea, aged 17 at the time, was a number one fan of the series and obsessed with Michael Praed, the actor who played Robin Hood. Praed had by then moved on to other big parts in the USA and had a part in Dinasty. Robin Hood was then taken over by Jason Connery, the son of Sean Connery.
During the previous year young Lea must have collected every newspaper cutting or magazine photo of Michael Praed. She wrote lots of fan letters which never got any answers. In fact she drew a sketch of him, which was a perfect replica and sent this to him. Lea was of course heart broken when Praed did not take on the Third Series, but she never stopped her devotion to the Robin of Sherwood series. Then, one day, a parcel arrived for her.............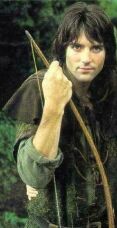 The Wardrobe Mistress had written and said she had passed Lea's drawing on to Michael Praed and was so taken at Lea's devotion to the series, that she wanted Lea to have the doublett top that Michael wore in the series. I have never seen anyone as excited and at the same time crying her eyes out, as I did that day seeing Lea. I think every time I saw her she was wearing that rough, green cloth doublett over her clothes!


The devotion got more and more intense after that. Lea found out that the secret location was near a village in Gloucestershire. So they took off on their motor cycles (both drove one) in pursuit of this film set. After a freezing day out, all they could find was a deserted thatched mud hut replica. They felt very let down after the long cold journey that cold January day. Stuart for days tried to coax me into driving them down there again to try and find the big film set. In the end I bent to their wishes!
I got ordinance survey maps out (being married to a hill walker!) and tried to pinpoint the spot they had seen this deserted cottage. It seemed to be on the edge of a large field behind the Glocestershire village. There was other huge field areas around it, also a river. Armed with maps, sandwiches, flasks of hot drinks, we set off in our warm gear, taking boots for our feet. The weather was freezing, but sunny. The day before however had been torrential rain, so we were prepared for a mud bath.
We reached the village and took the path I had planned to take behind the church. It was marked on the map as a public footpath. For a little way it was quite muddy, but had been used resently as a footpath, probably by locals for walking dogs. We met a local and I asked if he knew anything about the location of the film set for Robin of Sherwood. He said it was a long way beyond there and we would never find it, it was a secret location, but pointed in the direction we were going. We thanked him, then continued our mission.
I used the map and kept us strictly to public footpaths. To the casual walker, these perhaps would not be areas you would walk, as many are neglected by farmers, left overgrown to discourage the public having the rights to cross fields and even rivers on their land.
We battled on to where I had an idea that an area on the map looked big enough to house a huge film set. We tramped on through a jungle of brambles, and at times sinking inches into thick mud. After an hour or so we came to our first exciting discovery! It was a replica of a hand cart from the medieval period! It was sitting in a field which was on our left of the footpath. In the field it looked all muddy with cattle and wheel tracks. Almost as though a cowboy film stampede had occurred there. I just knew then we had found the right area!
However, much to our disappointment, further along the footpath we came to a dead end. There was a high grassy hill in front of us. I again studied the map and indeed the footpath stopped at this hill. In the distance across the ajoining field we saw a high metal fence, with big double gates.
"Come on" I said to Suart & Lea "we've come this far, lets go and have a closer look."
So we tramped across the boggy field to the gates. There seemed to be vehicles parked in view. It was then we saw a Security man coming towards us! He asked us what we wanted. I asked if this was the film set for Robin of Sherwood and he said yes. I explained we had come all the way from Coventry to see it and asked could we just come in a have a look for a moment, and that we would keep well out of the way. He said no at first, he was not allowed to let the public in. I tried my sweet feminine smile (He was about my age!) and gentle persuasion. He hesitated, then said "Alright, but you will have to go up that hill and view from there. Stay well away from everything. The actors are all at lunch at the moment, but will be back any time now. " ( So far so good!) We were let in the gates and climbed the grassy hill as instructed and sat on some hay bales piled there.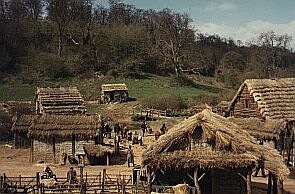 This was the first magnificent view we had!

From the top of the hill, we looked down upon a whole village of those thatched cottages. There was 100's of people walking around, mostly dressed in Mediaval clothing. Men. women and children. There was carts, cattle, dogs....it was like going back in time! We sat on that hill, all three of us silent and completely shaken with excitement!

At the foot of the hill, which was approximately 100 yards away, and directly in front of us was a car park. Within minutes several Land Rovers started arriving and parking. Out of the one nearest to us stepped Little John! I said to Stuart "I'm going down there! I haven't come this far not to!" Stuart replied "No, you'll get us thrown out, this is fine we can take photos from here." But I had already started to decend the hill.

I shouted 'Little John!" He looked up and saw me, "Could I have a photo of you please?" He said "Of course" and he waited for me to get down the hill. Stuart and Lea followed me down the hill and then we saw that Friar Tuck had appeared from the drivers seat of this Land Rover.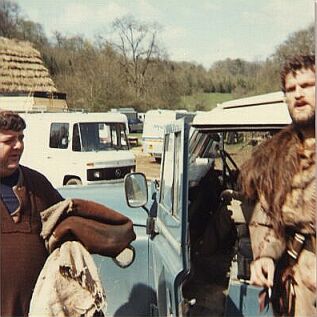 We took a few photos of the two of them and thanked them.
I said to Little John "We have come all the way from Coventry to see you all."

He said "Oh really? My girlfriend lives in Coventry, I go there for time off occasionally. Look....as you are from Coventry and come all this way, why not come and see where we are filming today. It's over the other side of that hill beyond the village. We're just going there now."

Of course we did not refuse! I had a gob smacked pair of youngsters at the side of me and I must admit I was pretty excited myself!

Little John called over to the security man and asked him to arrange transport for us. We were put in a four wheel drive Land Rover personnel carrier. I sat in the front with Lea and the driver. Stuart was in the back with the actors who were the main village people, one of them being Edward, the Head Man of the village in the series. We were driven through the small medieval town, where there were many buildings of all sizes, even a market square. Actors milled all around. At the far end we came to a river bank. Can you imagine driving down a sharp twelve foot bank, crossing a 2ft deep river with rocks in and climbing back up the other 12ft sharp bank? I think I nearly passed out! It was a good job we had not had lunch! But that's exactly what the convoy of Land Rovers did, then climed the hill beyond towards the woods.

When we got out of the vehicle, we saw Little John talking to a very official looking man with a clip board and not looking too pleased either. Little John was pointing in our direction. They came towards us and Little John introduced the Director, Ian Sharp, who shook our hands. (Apparently Little John had told the Director we were good friends from Coventry and he wanted us to see the film set!) We were told to feel free to walk around, but please to keep away from within 20 yards of camera shot areas when they were actually filming and also to keep quiet while filming. I think our hearts never stopped beating fast from then onwards!

PART TWO
We stood a bit shyly at first, several yards away from the 'top stars' of the series all strolling around. There was a lot of technical people walking around, but no actual filming for the first hour. Gradually the stars, one after the other, came across to chat to us. We felt really welcome by them. All came and said hello to us, except Jason Connery (Robin Hood) and Maid Marion (Judi Trott). Lea had her photograph taken with them all. I took duplicates with my camera, just in case Lea's didn't turn out with her camera. (Lea has all these photos. She and Stuart eventually moved on to new pastures and new partners as they got older, so I cannot show you them).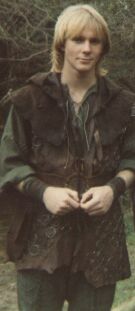 I cannot tell you how much we were made to feel welcome at that filming set.
We chatted to the top actors like they were our next door neighbours. But, like I said, Jason Connery was very quiet, but extremely polite to us and he posed for me for this one off photograph.





What wonderful people they were, right down to the staff members! They even provided us with hot refreshments mid afternoon to keep out the terrible cold. We had VIP treatment! I really did feel sorry for Maid Marion though, she did seem to be feeling the cold through the flimsy clothing she had to wear. I think this is why she was not feeling up to 'fans' chatting and milling around her. She actually refused to pose with Stuart for the only photo he would have liked to have had that day as a young man! All the others were the men posing with Lea. But, that was one tiny disappointment outweighed by overwhelming friendship with the Merry Men of Sherwood!
I think my highlight of the day has to be meeting Narir (Mark Ryan). In the series he is a foreigner from the Middle East, with these brilliant masterly sword skills. He has two huge heavy swords in scabbards strapped to his back and in an instance he whips the swords out, heavy as they are and can chop a man's head off. He demonstrated this for us.......no, he didn't chop us up! He had a real Samari warrior train him to perfection for this skill. If you saw the film series you would appreciate what a great actor he was taking that part.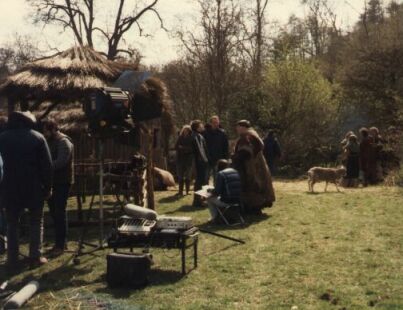 It was all very casual, with the actors mingling with everyone. On the photograph below (centre and to the right of Will Scarlet, you can see one of Ronin Hoods men, young Much (played by Peter Llewellyn Williams). This is the only photo I have of him worth publishing unfortunately. He was such a nice young man to chat.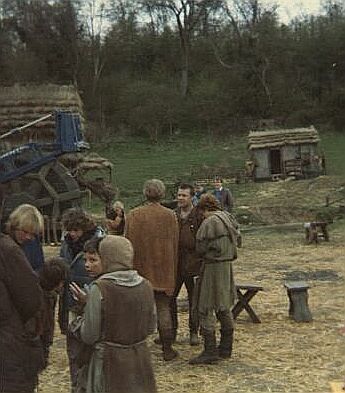 Eventually the filming started for the afternoon. (For a 4 minute piece of film in a series it can take up to a whole day to get it perfect so we were told.)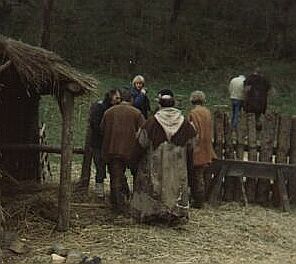 Here you see the actors following the Director to the nearby trees for that small, few minute 'take'. This take was only to include Friar Tuck (Phil Rose), Will Scarlet and the Village Head man Edward .




Meanwhile, Stuart, Lea and I wondered far away from the filming, keeping well out of any bother we may cause. The young man Much (Peter Llewellyn William) was quite chatty. I do have a close up photo of him I took, but it did not come out very well, with me half cutting his head off! (Nothing to do with Nari's swords either!)
Nazir and I wandered up the river bank chatting while the filming was taking place down the field. The scenery in that area was fantastic, especially following the river. The sunshine also added to the scenic picture. Nazir and I chatted for a good half an hour, with him in his Yorkshire accent, which really amused me because he used broken English in his part. So well done too and made up to look Arabian. What an actor!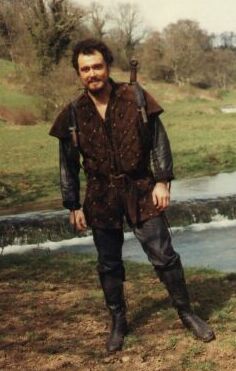 He posed for this photograph for me, which I will treasure for ever.
As we chatted he said something funny, I can't exactly remember what after all these years, but I laughed quite loudly. Then this mighty voice came over a megahorn. It was the director! "Quiet up there please!" Gee! Narir and I had to turn our backs to stiffle more laughs and I put my hand across my mouth! He whispered to me 'Although we are about 100 yards away from the film set the mic picks up anything high pitched.....Hmmm, my laugh I guess!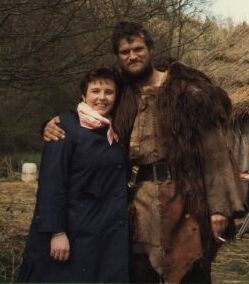 Later we chatted to Little John (Clive Mantle) again and by this time I was so numb with cold, I had to say we were heading home to Coventry.
He said to me 'Come on then Mum, you haven't had a photo taken yet!' So here it is! Another prize possession I will always treasure.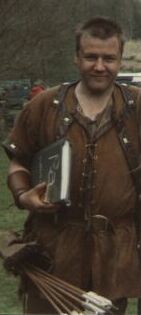 Will Scarlet ventured over to say goodbye to us. He had in his hand a replica of a medieval book.
He showed it to us and explained that the series was written from readings of that century's old re-printed script. The myth surrounding the series was also referenced by the film writer from those readings.
Ray Winstone (Will Scarlet) has over the years become a top television star. He is seen on our screens in many parts.





As time wore on, and feeling extremely cold by this time, we decided to call it a day. Those actors would remain there until dark, which would be around 4.0pm on such a sunny winter's day. I did not realise just how hard actors worked until I spent that day with them!
We walked towards the village, after refusing transport from busy people and headed down the hill, crossing the river via the foot bridge near the village. It was a magical walk around that village, like stepping back in time, miggling with 100's of medieval dressed villagers. But for the filming staff, we looked very out of place in modern attire. We had a lot of stares from people too. That whole village was sold to an American film company after that series was finished.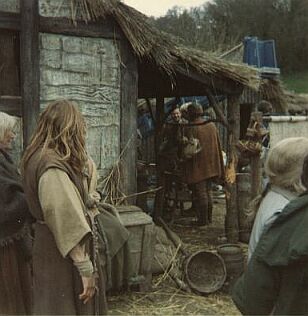 Had we have visited the film set day before, we would not have met these friendly stars as the whole filming for the day was in that huge field we passed on the footpath, where we saw the cattle footprints on the boggy grass. That was no cattle that caused them we were told, it was a huge battle scene with Sir Guy of Gisburne (Robert Addie) and his soldiers on horseback. We would have been kept well away because of the danger and Robin Hood and his merry men had the day off from filming anyway!

As we passed part of the village we saw that Jason Connery (Robin Hood) was preparing to be filmed, so we stopped for a short time to watch as the make-up lady did her part. (See the rails where the camera man would travel on a kind of trolley?)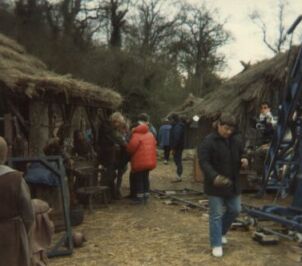 So ended our day with stars. One that I have not forgotten for nearly twenty years now. Those parts were the first major TV parts those young stars had done, most fresh out of Drama College. All have gone on to become familiar faces on our television screens in films and drama, or gone big time to Hollywood.

My sincere thanks go to them all for making three people so very happy. A big thank also to Ian Sharp (Director) and Paul Knight (Producer), who allowed this visit and made the day possible for three ordinary members of the public.

I am one proud mum to have met such caring and friendly people that made.......

A day with stars!

Ann Morris
Coventry, United Kingdom

Copyright © - Ann Morris 2001 - All rights reserved
Back top of page