About Robin of Sherwood
ROBIN OF SHERWOOD was an HTV production in association with Goldcrest Television Ltd. and first broadcasted in the UK on the ITV network and in the USA on Showtime cable channel and various PBS stations. It was written by Richard Carpenter, produced by Paul Knight and directed by Ian Sharp. It was made from 1983-1985 and it ran for three seasons, from 1984 to 1986. The first season (5 episodes, including one 2-hour/part) and second season (6 episodes, also including one 2-hour/part) starred Michael Praed as Robin of Loxley, the third season (11 episodes, including two 2-hour/part) featured Jason Connery as his successor, Robert of Huntingdon. It was shot on film, and almost entirely on location, mostly in the north east and south west of England as HTV was based in Bristol. Robin of Sherwood has become a cult series and is for many people the definitive version of the Robin Hood legend.

The change of title character came about because Michael Praed was offered a leading role in a Broadway production of "The Three Musketeers" as D'Artagnan. He felt this was his big break in America and he had to take it. This left the Robin of Sherwood producers in a quandary. Rather than recast the role of Loxley, they opted to give him a grand exit and explore the other legend of Robin as a nobleman's son.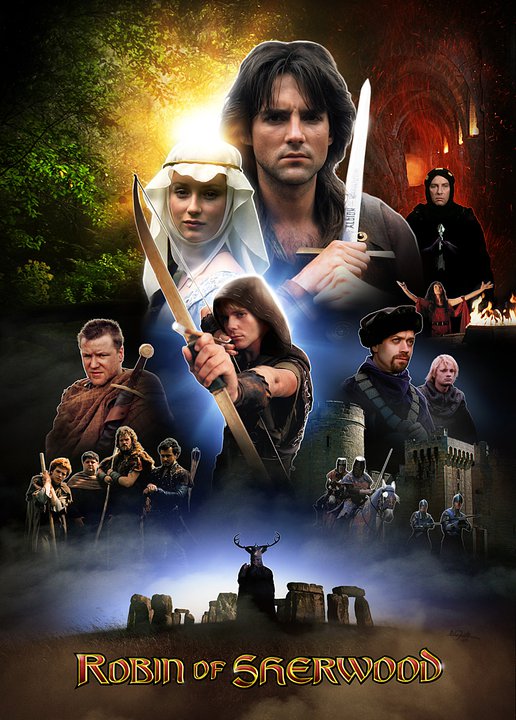 Continuation of the series?
Robin of Sherwood came to an abrupt and premature end after three seasons because Goldcrest went broke. (They made some very bad films which lost money. For the long version about the collapse of Goldcrest read My Indecision is Final by Jake Eberts and Terry Ilott.) Showtime (the U.S. outlet) didn't want to pay additional money and HTV just couldn't cover the financing on its own.

Series Creator Richard Carpenter and many of the actors have said many times over the years that when they were making the last episode of season three, they were planning on doing a fourth and final series that would resolve all the loose ends, such as the relation between Guy of Gisburne and Robert of Huntingdon. The plan originally was to marry Robert and Marian at the end of the third series. But then Judi Trott said she didn't want to do the whole fourth season, so Marion was written into a convent to explain her absence from the band. She was supposed to guest-star in the first and middle stories of the fourth season, and then return and marry Robert in what would have been the series' final episode.

Unfortunately, Goldcrest's decision to withdraw came too late to rewrite The Time of the Wolf, thus leaving the show with an open-ended "final" episode.

Since then, Richard Carpenter has speculated a lot on different ways the fourth season could have gone, e.g. Robert and Marion marry, or Guy kills Marion and then Robert kills Guy, or everybody gets killed, or everybody gets killed except John and Much. From Starlog #151 (February 1990):
Plans for the fourth series included Guy finding out his true heritage, a return of the demonic Baron de Belleme (another unresolved plot strand) and Robin and Marion's wedding, but Carpenter isn't too sure anymore about that last one. "One's initial feeling is, 'Yeah, marry them off and make them rich and famous', but I think on due reflection, what should happen is that Guy of Gisburne should kill Marion, and Robin should kill Guy, and then you either leave it like that, with them still being hunted, or they are actually cornered in an ambush and all of them die. It's very easy for Marion to put on a wedding dress and marry Robin who becomes the Earl of Huntingdon and lives in a castle and all the merries are pardoned and become wardens of Sherwood Forest. That's all very comfortable and lovely, but it isn't life. Life isn't like that."
Since RoS' premature demise in 1986, the cast, crew and Richard Carpenter have been trying to revive the series and give it a proper closure. There have been several attempts in the past, but they have unfortunately failed for one reason or another - mostly financial.
In 1988 the project failed at last minute (the cast was ready to leave for the production site).
There was some hope in 1991 that RoS could piggy-back on the Robin Hood uptake caused by the movies with Kevin Costner and Patrick Bergin. In DreamWatchBulletin #101 (May 1992) Tim Munro speculates about a RoS revival with Michael Praed (Jason Connery was unavailable) and how this could be done in a believable manner in the article "Return of the Wolf".
In the beginning of 2006 Vanessa Greatorex wrote the script for the TV movie Robin of Sherwood: The Reward, set some twenty years after The Time of The Wolf. Shortely after that, Richard Carpenter also started working on a RoS sequel script. But this foiled too.
Around 2009 ITV turned down a plan to do TV special with all the original crew (including Ray Winstone!). When this came out in October 2011, Karon Hollis set up an on-line petition to ask ITV to revive Robin of Sherwood with the original cast.
With the demise of Series Creator and Writer Richard Carpenter on 26 February 2012, it seemed highly unlikely that Robin of Sherwood would ever get the proper ending that it deserves. However, in 2015 The Knights of the Apocalypse was announced, a one-off audio project based on an original story written by Richard Carpenter that follows on from the end of the series. They managed to get the original cast back together and raised over GBP 25,000 (2.5 times their original goal!) within a month from a crowdfunding campaign. The Knights of the Apocalypse was released on 30 June 2016 by Spitful Puppet.
More on Robin of Sherwood
---
Last updated Sun 21 Aug 2016