RoS Games
RoS game books
There were two Robin of Sherwood role playing books, and a game book:
THE KING'S DEMON
By Graham Staplehurst
Puffin Books, 1987
ISBN 0-14-032294-9
RoS role playing adventure. A French nobleman and sorceror, Sir Jean de Melusine, tries to summon the evil Black Ram of Poitou during the Ram Day in the village of Haxhey and Robin must try to stop him.
THE SWORD OF THE TEMPLAR
By Paul Mason
Puffin Books, 1987
ISBN 0-14-032295-7
RoS role playing adventure. A Knight Templar who has the black Elidor, Sir Roger of Ledbury, seeks to distroy Herne and Robin must try to stop him.
GAME BOOK
Multiple Sound Distributors Ltd., ?
ISBN 1-85255-002-3
Board games with illustrations of the RoS characters.
| | |
| --- | --- |
| | The GURPS Robin Hood book more or less uses the RoS characters for its "original Robin Hood" setting. |
RoS games on The Net
HeartofSherwood is a story-format RPG, and a collaborative piece of fan-fiction rather than a "game". They also have a website.

RobinOfTheHood is dedicated to role playing (very) loosing based RoS. They also have a website.
In addition to that, there are the following Internet RoS RPGs:
RoS computer games
Robin of Sherwood: The Touchstones of Rhiannon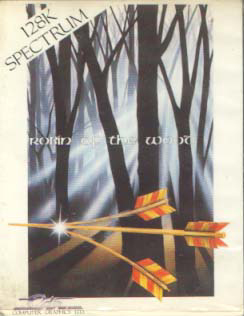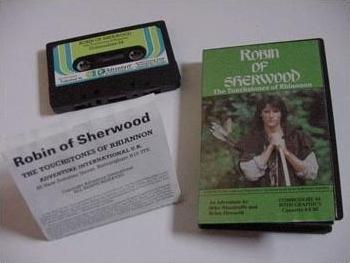 In 1985 Adventuresoft UK Ltd. (Adventure International UK, 85 New Summer Street, Birmingham B19 3TE) released "Robin of Sherwood: The Touchstones of Rhiannon". This was a BG (Bitmap Graphics, i.e. static high-resolution pictures) game with some animated screens, written by Michael Woodroffe, Brian Howarth, Teoman Irmak (graphics), Simon Woodroffe (help) and Alan Cox (help). It ran on the Amstrad (BG), BBC (text only), Commodore 16, Commodore 64 (BG), Electron (text only), and Spectrum (BG). It had three windows: graphics, location description, and dialogue, and 93 locations (about half a dozen of these lack graphics and some have identical pictures). It was based on some of the first RoS episodes (review)
Over a hundred years after the Normans conquered England rebellion still flared, like embers from a dying fire. One such rebellion was led by Ailric of Loxley. Ailric and many of the English secretly believed in the ancient legend of Herne the Hunter, the Horned God of the forest. A hooded man - a fugitive - would be chosen by Herne to be his Son and do his bidding and to lead the English against the Norman tyranny.

Ailric, the Thane of Loxley, is dead and the rebellion is seemingly over. Robert de Rainault is High Sheriff of Notthingham and King Richard spends much of his time at the crusades leaving the running of his country to the evil Barons.

The time is ready for the appearance of the Hooded Man, i.e., you.

In this game you will play the part of the Hooded Man, alias Robin Hood.

Your adventure starts with you as a prisoner in a cell in Nottingham Castle, both yourself and Much the Miller's son have been caught breaking the law of venison by Sir Guy of Gisburne and now face terrible punishment. You need to escape from there and from Nottingham Castle as quickly as you can, then Herne will appear and give you your instructions.
Robin of Sherlock
| | |
| --- | --- |
| | In 1985 Silversoft Ltd. released "Robin of Sherlock", a text adventure game. It was written by Fergus McNeill (Delta 4). It ran on the Amstrad CPC, Commodore 64, and Spectrum. It was a parody on the games Robin of Sherwood by Adventure International and Sherlock by Melbourne House. |
---
Last updated Mon 3 Oct 2010