RoS Music
Clannad
The music for RoS was created by the Irish band Clannad. Clannad (which is made up from three Gaelic words: 'Clann as Dore' - meaning the family from Dore (Dobhar), a small village in Country Donegal) is quite literally a family: the band consists of Pol, Ciaran and Maire Brennan, whose father is the celebrated Irish bandleader Leo Brennan, and their twin uncles, Noel and Pat Duggan. Enya Brennan, one of Maire's sisters, used to be a member of the group in the early eighties, and another Brennan sister, Bridin, toured with Clannad as a backing vocalist for years in the nineties.


Since winning a recording contract when the band were in their early teens, the group have produced a succession of albums, each one developing the Clannad sound from its roots of Irish folk music to the highly individual style that has earned them the reputation of being one of the most talented bands ever to emerge from the Emerald Isle. Their music has been variously described as being folk music, new age, and Celtic.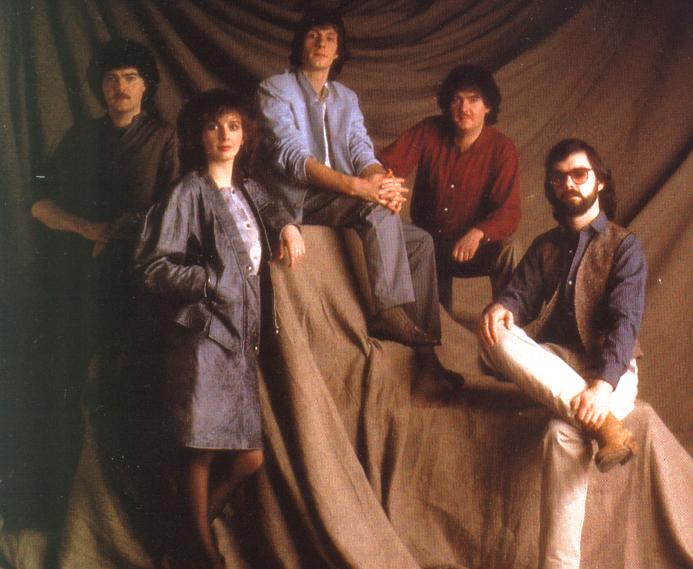 Clannad: Pat, Maire, Pol, Noel, Ciaran
Maire, Pol en Ciaran grew up in Meenaleck, in the parish of Gweedore, Donegal, in the secluded north-west of Ireland, and sang and played from an early age in their father's bar, "Leo's Tavern". Soon they were accompanied by their uncles, Pat and Noel Duggan, winning a talent contest in Letterkenny in 1970 with the Gaeilge popsong "Lisa" written by Pat. Their first album, "Clannad", was released in 1973, followed by "Clannad 2" (1975), "Dúlamán" (1976), "Crann Ull" (1980) and "Fuaim" (1981), which featured Enya.
Clannad had been at the forefront of Irish music for many years, but it was only after their score for Yorkshire Television's "Harry's Game" that a wider audience came to appreciate their musical excellence and the hauntingly beautiful voice of Maire Brennan. The "Theme from Harry's Game" was released in October 1982 and after selling 47,000 records on the day of release, peaked at number 5 in the UK chart. This song has more recently captured audiences in a VW commercial and in the film "Patriot Games". The single was followed by the magnificent "Magical Ring" (1983), the band's debut album for RCA records. It reached number 25 in the charts and stayed in the top 50 for over 6 months, achieved Gold status and yielded another two singles.
After an extensive tour of major European venues, Clannad returned to the studio with legendary Moody Blues producer Tony Clark to record an album of songs for the award winning Goldcrest/HTV series "Robin of Sherwood". Aside from the album, "Legend" (1984), the band also wrote and performed all the atmospherics for the episodes. Early in 1985, at the Grosvenor House Hotel, Clannad received the British Academy of Film and Television Arts (BAFTA) Award (British Oscar) for the best TV theme music/soundtrack of the year with "Legend", making them not only the first Irish band to win the prestigious award, but also the only group ever to be nominated twice. "Legend" matched "Magical Ring" in sales, selling over 150,000 copies.
Since recording the music for RoS, Clannad have had many successful albums such as "Marcalla" (1985), "Sirius" (1987) and "Anam" (1990) and had their music featured in films like "Patriot Games", "Last of the Mohicans" and "Into the West". The "Banba" album once again gave Clannad a Top 5 hit in the UK charts in 1993 and marked a momentous anniversary: 20 years together as a professional group. They released the mega-selling album "Lore" (1996) and the Grammy Award winning "Landmarks" (1998), again proving that no other act had such a distinctive imprint, such a variety of style and tone.
But after 1996 Clannad slowly drifted apart. It was time, they sensed, to pursue other projects, with the full knowledge that family business might resume in the near future. Most of the Clannad members are now working on projects outside of Clannad. Maire's sister Enya (Eithne) joined the band in 1979 and left three years later to pursue a successful solo career. Maire has also enjoyed a simultaneous career as a solo singer, starting with her 1992 album entitled "Máire" (featuring also her sisters Bridin, Olive and Deirdre), and recently altered the spelling of her name to Moya Brennan. Pol and Pat Duggan gathered together 18 friends made over the years (including their nieces Moya, Bridin and Deirdre) and in 2004 made their first non-Clannad recording called "Rubicon". The youngest of the Brennan siblings, Bridin (Brídín) also released her own debut album, "Eyes Of Innocence", in 2005. In March 2008 Clannad held their first UK tour in over 12 years. And in September 2013 "Nádúr" - the first new release since "Landmarks" in 1998 and the first full album to feature all five original members including Pol since 1989's "Sirius" - came out. In February 2014 Clannad was presented the BBC Radio 2 Folk Lifetime Achievement Award at the Royal Albert Hall in London.
Band members on "Legend":

Maire Brennan (Máire Ní Bhraonáin): Lead Vocal, Harp
Pol Brennan (Pól Ó Braonáin): Guitar, Flute, Tin Whistle, Keyboards, Vocals
Ciaran Brennan (Ciarán Ó Braonáin): Double Bass, Synthesisers, Guitar, Vocals
Pat Duggan (Pádraig Ó Dúgáin): Mandola, Guitar, Vocals
Noel Duggan (Noel Ó Dúgáin): Guitar, Vocals

James Delaney: Keyboards
Paul Moran: Drums
Pat Farrell: Electric Guitar
Frank Ricotti: Percussionist

For more information on Clannad, see The official Clannad Website, Wikipedia on Clannad, and The Clannad Newsblog.
The RoS soundtrack
The soundtrack for Robin of Sherwood can be found on the Clannad album "Legend" (RCA records, 1984).

| | |
| --- | --- |
| | It contains the following tracks: |
Legend Album Codes:
CD RCA PD70188 (UK)
CD RCA ND-71703 (UK)
CD RCA ND-71703 (Germany)
LP RCA AFL1-5084 (USA)
LP RCA PL70188 (UK)
tape Tara 3012

The original CD sleeve insert features a front cover with Michael Praed as Robin of Loxley, holding the Silver Arrow, in front of the drum tower of Rochester Castle (see above) and has photos and character descriptions of all the main first-season cast: Loxley, Marion, the Merry Men, the Sheriff, and Gisburne.

Since 25 August 2003, "Legend" is also available from RCA in a deluxe edition, digitally remastered from the original tapes, with new sleeve notes (unfortunately no more RoS cast photo's, but extensive information about the album's making), rare (band) photos and a bonus track: Together We (Cantoma Mix) 5:20 [P. Brennan].
"Legend" only contains the music from the first two seasons (i.e. with Michael Pread as Robin of Loxley) but not from the third season (i.e. with Jason Connery as Robert of Huntingdon). Most notably the music from the dance scene in "Herne's Son" is missing. The only pieces of third-season RoS music released so far are the song Caisleán Óir on their album "Macalla" and the last three themes in the 11 minute Robin Of Sherwood Medley on their 2005 album "Live in Concert" (compiled from various performances from their 1996 European tour), which consists of: Robin (The Hooded Man) / Herne / Ancient Forest / Lady Marian / Royal / Action / Mighty Chase. It seems that there was a "Legend II" album intended in 1986.
Several tracks from Legend also appear on other Clannad albums (e.g. "PastPresent") and some of the tracks from RoS have appeared on 7" singles:
A music video for the song "Robin, The Hooded Man" is included in their videotape collection for "PastPresent". It features clips from RoS interspersed with the band performing the song.
How "Legend" came about
This information is taken from the inlay of the "Legend" re-issue CD, by Stuart Baillie.

Singer Moya Brennan calls the 'Legend' album 'a huge, huge milestone' for Clannad. It was the record that demanded the best of their resources and creativity. It set them on a dramatic learning curve - writing music to order, matching sound with pictures. They were letting their minds drift into the deeps of ancient myth. At the same time, they were using the best of modern technology to further their needs. And happily, everything came out well.

'Legend' was the soundtrack to the HTV/Goldcrest television series, 'Robin Of Sherwood'. It was the story of Saxons versus Normans, the dispossessed against the ruling class, good guys doing battle with evil energies. And here was Clannad, an act from Donegal, on Ireland's north-west shore, scoring the action. For the first time ever, they had made an album without a word of their native Gaelic. The band that had become famous for those grand harmonies, were rarely using them. And while there were hints of traditional airs, this was all original music, authored by the brothers Pól and Ciarán, with help from their sister Moya. Ultimately, it won them a BAFTA award for Best Original TV Music - the first Irish act to be honoured thus. And it gave the band members a reputation for soundtrack work that was continued through the likes of 'Atlantic Realm', 'The Angel And A Soldier Boy', 'Last Of The Mohicans' and beyond.

But when they accepted the commission, Clannad had barely thought of how important this work would be. "There was a lot of naivety," Pól admits. "But there was also a pure 'go-for-it' attitude as well. It was great fun to make and my abiding memory is how we were empowered by the show's producer, Paul Knight. We were given a full licence to go and to flow. It was a once-in-a-lifetime thing, and it came at a point the sound of the band was starting to shift. There was a massive leap in terms of the Clannad sound."

The Brennans plus their uncles, Padraig and Noel Duggan, had started playing around the Gweedore area in the early Seventies. They became avid song collectors, and they gave their traditional reportoire a flavor of American and British rock and folk. Their breakthrough song was 'Theme From Harry's Game' in 1982, which had accompanied a TV drama about the political situation in Northern Ireland. This was a top five hit, leading to a major record deal and the album 'Magical Ring', a year later. This found the band writing more and learning how to sustain that amazing, layered sound.

Meantime, Richard Carpenter was writing the script for 'Robin Of Sherwood'. His previous TV credits were Dick Turpin and Catweazle; the former a highway man of reknown, the latter a fictional mystic, transported into the 20th Century with his trusty toad, Touchwood. Carpenter took his job seriously, as Pól later found out. "The amount of research that he'd done on Robin Hood was just enormous. It was awesome. He knew everything. And what he'd created was close to the myth and the legend. Yet his dialogue had this modern edge to it."

The original director, Ian Sharp, was fascinated with the strangeness of the story, and so he accented the supernatural element. For instance, there was Herne, the forest-dwelling mystic, who gave Robin a guiding, shamanic force. "That was right down our street," Pól remembers, "In terms of what we were able to bring to it musically and vocally."

While the early rushes of 'Robin Of Sherwood' were being viewed, the team were using tracks from 'Magical Ring'. With this in mind, Paul Knight had contacted the band and asked if they would care to provide something new.

"We were very excited," says Moya. "First of all, we were offered 13 episodes. As it turned out, it was 26 episodes, and it was a fantastic journey for us. We went on location just outside Bristol, which was great, because we got to know everybody involved - the director, the actors and everyone. So it was a real sense of occasion. It wasn't just ourselves being locked away in a studio."

The band rented a place in London's Berkeley Square, close to Trident Studios in Soho, where the project would take shape. This took six months of concentrated effort, while a number of additional jobs pushed the workload further. In all, it took the best part of a year to complete. The record's producer was Tony Clarke, whose CV included 'Nights In White Satin' by the Moody Blues. Ciarán remembers him with great affection. "He was the easiest producer I've worked with. He squeezed so much out of our minds."

The longest, double episode of the series was an hour long, with 26 minutes of music in it. This was hugely demanding for a band that had never taken on a job of this scale. Cleverly, Clannad hit on a solution. Each main character in the story would have a musical motive. When the action demanded it, this melody could be spun out in a number of different ways, thus telegraphing the action in any given scene. So, 'Lady Marion' was distinguished by the harp and its wistful register. Herne was announced by synth chords and chimes. The troubled mind of Will Scarlet (played by a young Ray Winstone) was reflected in the broken rhythm, and the lyrical allusions to the death of his wife at the hands of Norman mercenaries.

The 'Legend' album summarised this process. Because of time pressures and the extended run of the series, not everything from 'Robin Of Sherwood' was released on the record. A dance sequence is still out there, plus a stately, royal theme. On subsequent Clannad tours, the band would showcase these extra tunes, and fortunately there are live recordings preserved in the vaults.

'Robin Of Sherwood' was first aired on April 28, 1984. A second series started in April 1985, and the final run ended in June 1986. For those first two years, Robin was played by Michael Praed. He was then offered work in America, and passed on their third series. A new Robin was required, and an ingenious piece of script-writing brought Jason Connery, son of Sean, to the force. The legend lived on.

So Clannad picked up their BAFTA Award at Grosvenor House in London, a trophy to set alongside the Novello they'd won for 'Harry's Game'. And the 'Legend' album, released in 1984, sold steadily, keeping pace with 'Magical Ring' as it exceeded 150,000 sales.

The next Clannad album was 'Macalla' in 1985. Again, this was a bold development. Pól is convinced that 'Legend' gave the band such a wealth of experience and confidence that they were bound to improve. "That's where the benefit really came," he reasons.

Interestingly, the 'Legend' story still has life in it, and 'Robin Of Sherwood' has sold well on both VHS and now DVD formats. New generations of fans are warming to the visuals and the music, which pleases Clannad to no end. On this occasion, the force was definitely with them.
RoS sheet music
There is a book with sheet music from "PastPresent", which contains the score of two RoS tracks: "Lady Marion" and "Robin (The Hooded Man)".
Clannad pastpresent
Wise Publications, UK, 1989
ISBN 0.7119.1919.4

Sounds of Sherwood
Marc Lines has created two 90-minute cassette tapes / CDs with music and dialogue from RoS (tape/CD I features material from season 1 and 2, tape/CD II material from season 3) called Sounds of Sherwood. The price for the cassetes is £2.00 per cassette for UK addresses, and £5.00 for one or £7.50 for both cassettes for the rest of the world. The price for the CDs is £8.00 for one CD for UK addresses and £11.00 for the rest of the world, and £14.00 for both CDS for UK addresses and £16.00 for the rest of the world.

Marc has also created a 75-minute CD called 'The Scarlet Blood'. It is all about Will Scarlet, and contains all his best lines, both the funnies and the poignant, interspersed with Clannad songs and some really appropriate songs from 'All About Eve'. The price is £5.00 per CD for with in the UK and £8.00 for the rest of the world.

To cover cassette or CD, labelling and postage only (this is strictly non-profitmaking!) please send a sterling cheque or international money order to Marc Lines at the address below:
26 Gordon Street
Hartlepool
Co Cleveland
TS26 8EQ
United Kingdom

For clips and more information, visit the Sounds of Sherwood Webpage.
RoS Filk
Filk is (folk) music written or sung by fans, with lyrics appropriate to the fandom - in this case Robin of Sherwood. The term 'filk' was originally a typographic error in the program for a science fiction convention and the term stuck. Filksinging (or filking) is practiced at the Weekend in Sherwood conventions.
Filk can be new lyrics to existing tunes (adapted filk) or original both in music and lyrics (original filk). Both categories are eligible for Major Oak Awards.

"Bright Forest" was an audio tape cassette with song booklet with filk songs about RoS by Rache. Another RoS filk tape was "Rhiannon's Wheel" by Jenni Hennig and Pat Kennedy.

The English singer-songwriter Steve "Stig" Denson composed the song "Nothing is Forgotten" in tribute to Robin and Marian based on RoS which he loves. The song features on his CD Songs in the Key of Stig.
---
Last updated Tue 5 Jan 2016